​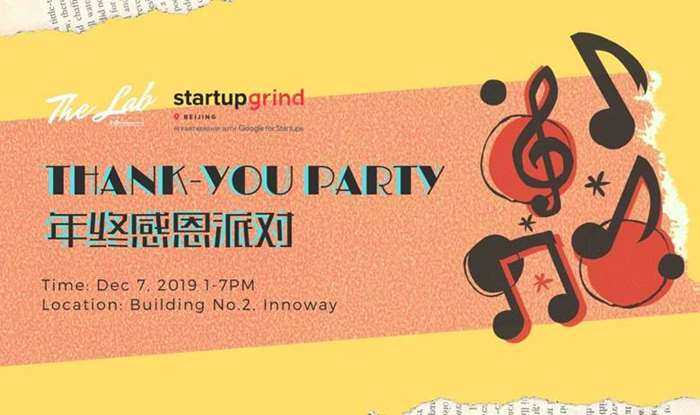 时逢众多海外节日到来,新的一年也即将来临,中关村国际青年创业平台与Startup Grind联合呈现2019年终感恩派对,并值此机会答谢众多合作伙伴和创业项目在一年中的支持。
The year is coming to an end and the international festive season will be coming soon. The ZGC Global Youth Lab will be co-organising a Thank You party along with Startup Grind, to thank our partners and startups for their unwavering support throughout the year.
活动亮点 | Highlight

派对入场是免费的!我们将会在现场售卖热红酒,华夫饼与其他美食,同时还为大家准备了电影区,您可以一边享受美食,一边看电影。不仅如此,当天会有10多家展商在集市区售卖自己的手工制品或有特色的小物件,派对也会有许多节目和幸运抽奖!
The entrance to the party is free! We will be serving delicious mulled wine,fresh waffles and other culinary delights at the party. There will also be a movie venue for you to chill and enjoy your food. Other than that, we have invited 10+ vendors who will be providing you treats and supplies at the party's bazaar. Lucky draws and other fun activities will also be featured at the party!
活动基本信息 | Basic Info

日期:星期六,12月7日
时间:下午1点至7点
地点:中关村创业大街2号楼
Date: Saturday, 7th December
Time: 1 - 7 pm
Location: Building No.2, Innoway
虽然活动入场是免费的,但是在现场我们每样食品是25元
Food items will be sold at 25 RMB each at the venue.
可是...
But we got you covered...
一个优惠券可购买4样食品
Each voucher will entitle you to 4 food items
早鸟票(截止至12月1日):69元/人
普通票(截止至12月6日):89元/人
在场购买票:109元/人
Early Bird (valid till 1st December) : 69 RMB
Regular (valid till 6th December) : 89 RMB
Door Ticket : 109 RMB
如果你需要,请联系我们获取优惠券!

If you are willing to purchase voucher, please contact us!
zhaowuyang@z-innoway.com​
如果你想更好地参与到我们的派对中来,不如尝试一下这个圣诞专属活动——神秘礼物交换吧!对于未知的惊喜,是不是很期待呢?快扫一下二维码参加!

Scan the QR code below if you would like to participate in Secret Santa!
关于集市供应商

About our Bazaar Vendors
Beanmade vegan candles, body and home collection are handmade for a healthy mind and home. Beanmade only use natural wax, oils and essential oils to scent.
Beijing Experience ran by Cesar, from Spain, does tours in Beijing. He is also a photographer, who makes POSTCARDS and POSTERS from Beijing landscapes, such as Great Wall, hutongs, architecture, people and much more
CCCreations is a Beijing-based Italian Bakery, which has gained a following among expats and Chinese people. It features a wide range of traditional desserts, handmade with passion using the finest ingredients flown in from Sicily. The secret ingredient is the Sicilian Pistachio( DOPcertified Made in italy). But, also, CCCreations offers healthy and vegan options. Come by for a taste of Sicily!
The main goal of Gemmu Jewelry is to make it as natural as possible. Veronica, from Poland, always uses very natural components such as: freshwater Pearls, Turquoise, Coral, Polish Amber, Agate, and Lava stones. They are all gifts of Nature! She loves to make things beautiful and create a full, balanced jewelry for others.
Greenwave is a leading nationwide water and air filtration solution provider. Greenwave provides drinking water filters, shower filters, faucet filters, and does filter renting and testing. The services are available in English and Chinese.
Over the past 9 years, we have served 10,000+ families and businesses in Shanghai, Beijing and 24 other cities in China. But Greenwave has only been in Beijing for about 2-3 years now.
We are a food adventure! Our top-rated food tours get you off the beaten path, truly away from tourists, to eat where the locals eat. We take small groups to hidden, family-run shops where you can see your food being made and learn about the people that are making it. Enjoy unlimited food & drinks, and discover the most authentic food at the most local places with a passionate and friendly local insider.
Lost Plate is currently in Beijing, Chengdu, Shanghai & Xi'an in China, Phnom Penh & Siem Reap, Cambodia and Portland, Oregon!
Chef Reshma Khan as she takes you for a walk on the wild side through the wonderful melting pot that is India and invites you to dip into the best loved street foods of the country and Bottled Chutneys
Orgonites are full of quartz, crystals and metal spirals. This creates a piezoelectric effect. Which helps to neutralize harmful EMF radiation emitted from electronic devices and WiFi etc.. You can place these pieces in yr bag, pocket, under a pillow, next to your bed, etc. These make great gifts or for your beloved one or kid.
The OnPoint mission is, at its core, to make products available to our China audience that will help them experience the best hair and skin health, particularly given the unique challenges that present themselves in the Chinese environment. In order to achieve our
mission, we are collaborating with brands that are making natural and cruelty-free personal care products and listing them on our platform
The Blck Lab allows everyday coffee lovers to get a taste of amazing specialty coffee at a very reasonable price. Kevin Richardson, chief coffee roaster has taken it upon himself to explore the variety of coffee flavors and equipment that China has to offer.
As we promise great tasting coffee and quality. We roast only the freshest 100% arabica coffee beans in house. Our roast profiles are within Medium to Medium Dark. We can, however, do custom roast profiles for wholesale customers.
With a mission to promote the coffee culture in China, The Blck Lab strives to improve peoples knowledge and experience towards specialty coffee. We also believe in supporting the community. Thus, we have committed to offering local F&B businesses free consultations and training on how to brew coffee with alternative brewing methods and also how to do those amazing espresso shots.
TRIBE Nutrition was founded in 2015 and is at the forefront of the local healthy meal plan delivery service industry. We strive to meet your dietary needs and preferences whilst offering a personalized meal plan design experience and we use the most nutritious ingredients we can get our hands on to create a wide variety of healthy meal plans to help you achieve your healthy living goals.
​VkusVill is a European brand for healthy and organic food products.
We are a fast-growing food retailer in Europe offering a distinctive and broad selection of natural foods for the whole family: child nutrition, healthy snacks and sweets, herbs & spices and beauty products.
THE BULK HOUSE 零浪费生活 is a social enterprise dedicated to advocating the zero-waste lifestyle, to encourage people to better understand the waste in their lives and then start to reduce their waste through the 6 R principle of zero waste. THE BULK HOUSE 零浪费生活 believes the key to solving the world's biggest problems is for everyone to adopt a combination of minimalism and zero waste into their lives. Joe Harvey and his partner, Carrie Yu, opened mainland China's first zero-waste store in Beijing at the beginning of 2018, which they ran until March 2019. THE BULK HOUSE 零浪费生活 now runs the product part of their social enterprise online whilst sharing the zero waste lifestyle offline through events and talks. One of the main focuses of THE BULK HOUSE 零浪费生活 is encouraging people to understand their waste and then reduce it using the 6R principle: Refuse, Reduce, Reuse, Repair, Recycle and Rot.
Startup Grind is the largest independent startup community, actively educating, inspiring, and connecting 2,000,000 entrepreneurs in over 600 cities in 125 countries. We nurture startup ecosystems through events, media, and partnerships with organizations like Google for Startups.
Our events are powered by a team of volunteers, each with a day job, and with the passion to create a stronger entrepreneurship community in Beijing. Please don't hesitate to reach out to us if you have any questions!
The Lab is the international arm of Zhongguancun Innoway and focusing on global talent and entrepreneurship in China. We are a government-
supported program from Haidian and Zhongguancun Government and strive to offer the best platform for international startups to land.
If you are a foreign talent in China who would like to start his own venture and needs, or if you are an international startup that is trying to enter the Chinese market - you should get in contact with us!